WTCS Student Success Center
The WTCS Student Success Center, established in 2017 as a member of the national Student Success Center Network, is a statewide association focused on implementing and supporting student success efforts within all 16 technical colleges of the Wisconsin Technical College System (WTCS). The goals of the WTCS Student Success Center are to improve completion rates and student outcomes, support the development of student-centered pathways at our colleges, and continue expanding our community to better share information and best practices for serving students. The WTCS Student Success Center is led by both the Associate Vice Presidents for Instructional Services (Chrystal Seeley-Schreck) and Student Success (Christina Lorge). For questions, technical assistance and more information, please email successcenter@wtcsystem.edu.
Guiding Our Way Forward: Virtual Convening
Register and save to your calendar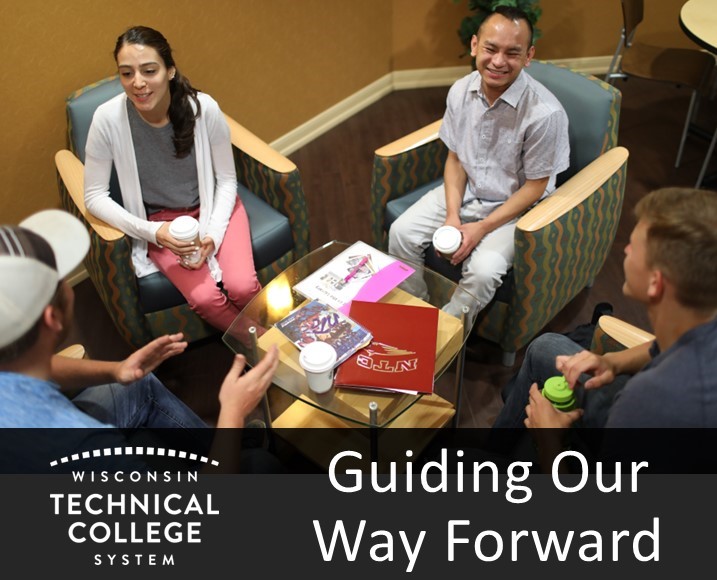 February 27, 2023 (1pm-4pm)
Join us for this virtual convening to:
Share successes and sticking points on Guided Career Pathways cohort work

 

Gain a better understanding of leading transformation

 

Hear from Student Success Center liaisons regarding supports needed related to this work

 

Access the 2023 Scale of Adoption Assessment for Guided Career Pathways and learn about next steps
Agenda
1:00pm: Welcome and introduction to Drs. Melinda Karp and Maria Cormier from Phase Two Advisory 
1:15pm: Guided Pathways and adaptation 
1:45pm: Connecting Guided Pathways to other initiatives 
2:15pm: Leading transformation from the middle 
2:45pm: Breakout for SSC College Liaisons with Phase Two Advisory 
All are welcome to attend and contribute for the sessions from 1pm-2:45pm. These open sessions will also be recorded for later viewing. At 2:45pm, we are holding a breakout session just for Student Success Center Liaisons. For questions regarding this convening, please email successcenter@wtcsystem.edu.
Download the Guiding Our Way Forward Convening Flyer.
Watch recordings from the December 2022 Convening
If you missed the 'Increasing Enrollment and Completion through Guided Career Pathways' convening, please view this Convening Resource Document to access links and information that was shared in the chat, and links to the collaborative padlets, presentations and session recordings. This convening provided an overview of Guided Career Pathways and our WTCS Student Success Center, as well as experiences from Wisconsin Technical Colleges in scaling practices and insights from Dr. Rob Johnstone on the value proposition and return on investment of Guided Career Pathways for colleges and students.
Guided Career Pathways
The American Association of Community Colleges (AACC) has launched the Guided Pathways Research Center that offers over 300 different tools, materials, and other resources for colleges to use in support of Pathways-related work.
The Community College Research Center provides an analysis of Guided Pathways reforms, including:
WTCS Student Success Center Resources
The WTCS Student Success Center is funded with generous support from Ascendium Education Group and technical assistance is provided by Jobs for the Future.