FLO – Foundational Leadership Onboarding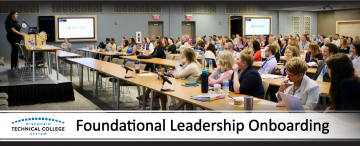 The FLO page is where you find training videos and other documents to help new or existing leaders from the Wisconsin Technical Colleges develop a strong working relationship with the System Office. Here you can answer those questions you have about why policies are in place or who to contact when you have questions. This self-service training is always available. If you need additional direction, or have training suggestions, contact Stephanie Glynn at the WTCS.
Here you will find links to the organization charts showing the staffing of the system office along with information about other associated organizations we work with daily. You can even access a full library of the laws, policies and procedures that govern WTCS operations.
Here you are provided insight into some of the more important activities within the system office through short videos and other documentation. Through the videos, you will meet staff who are directly involved with these activities.
Many policy manuals and user guides are available throughout the MyWTCS site and each with an owner. This page provides a library of those documents along with a link to the document or page.
Here you will find information about the large Systemwide conferences, including Assessment Conference, BOSS+, Collaborative College Connections (C3) Conference, Common Ground and WISCORE.