Wisconsin Open Education Symposium
Open for Equity
See below for information about presentation topics and formats. Proposals are due September 2 by 4PM.
Submit a Presentation Proposal
Register for the Symposium
Save the date! Friday, October 28, 2022
This Symposium is a space for inclusive and open sharing and conversation, and creating meaningful collaborations to advance open education. All are welcome to attend and contribute. For questions regarding the Symposium, please email Nancy Chapko (chapkon@gtc.edu). This virtual Symposium is hosted by Gateway Technical College.
Connect with us!
Meet the Symposium Planning Committee.
Facebook Group | Twitter | LinkedIn
Keynote Speaker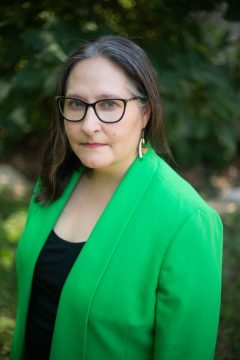 Ursula Pike is the Associate Director of the Digital Higher Education Consortium of Texas and a Creative Writing instructor for Austin Community College. She is a member of the Equity, Diversity and Inclusion committee for the Community College Consortium for Open Educational Resources (CCCOER) and completed SPARC's Open Education Leadership Program in 2021. Ms. Pike earned her Master's degree in Economics from Western Illinois University and her MFA from the Institute of American Indian Arts. She is an enrolled member of the Karuk Tribe and the author of the openly licensed book OERigin Stories: Pathways to Open Education and An Indian Among Los Indígenas: A Native Travel Memoir (2021) from Heyday Books.
Call for Proposals
Wisconsin Open Education Symposium is currently accepting proposals for the second annual, virtual event held October 28, 2022. The Committee is looking for engaging presentations on the theme "Open for Equity." Potential topics include, but are not limited to:
Finding, adopting, adapting, creating OER
Faculty experience with OER or open pedagogy
Advocating for Open Education
Innovative approaches to reducing learning resource costs
Student perspectives on Open Education in the classroom
Other topics
Proposals can be submitted for the following presentation formats:
Lightning Talk: 10 minute pre-recorded presentation with one or more speakers that is action-oriented. These presentations will be grouped by theme and made available throughout and following the Symposium.
Panel: 45 minute panel presentation with a designated moderator and two or more panelists. This session should have at least 3-4 predefined questions to help start the conversation and then allow audience members to ask their own questions.
Presentation: 45 minute presentation with one or more speakers that provides at least 5 minutes at the end for audience questions.
Virtual Poster: This will be a sharing opportunity throughout the Symposium, in which participants can view virtual posters and submit questions to the presenters. For each virtual poster, there will be one or more presenters who create a poster using one to three slides (e.g., Google Slides). On the slides, presenters could provide recorded audio that helps guide individuals through their poster presentation (add audio in Google Slides, add audio in PowerPoint). For an example, please see examples from last year in linked within the 2021 Symposium Agenda.
Presentations will be recorded and posted to this webpage for viewing after the Symposium. Presenters will be asked to share their presentation slides and other materials (e.g., handouts) prior to the Symposium so that these can be posted and shared with participants. Presentation slides and materials must be accessible for individuals with diverse abilities. Please see accessibility guidance for Microsoft PowerPoint, Google Slides, and accessibility Quick Cards. We can also provide technical assistance to presenters for ensuring accessibility of presentation content. Please email Hilary Barker for assistance. In the spirit of OER (Retain, Reuse, Revise, Remix and Redistribute), the presentations and content will be provided on this webpage under a Creative Commons License (CC BY).
To submit a presentation proposal, please fill out our online proposal survey by September 2, 2022 at 4PM.
See examples of WTCS OER Symposium Proposal Submissions.
To view recordings from prior years, see our Past Symposia page.

This work is licensed under a Creative Commons Attribution 4.0 International License.